CBCT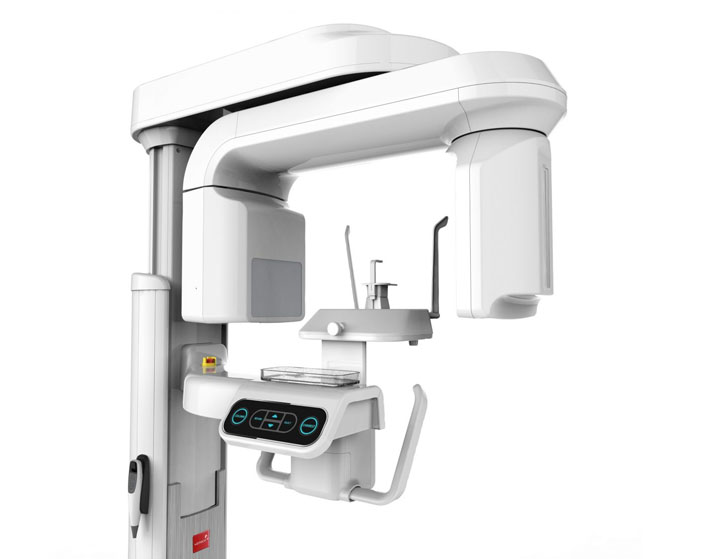 Cone-beam computed tomography systems are radiographic systems used by dental professionals to analyze and reconstruct 3D images of a patient's teeth, jaws and surrounding anatomy. The information obtained by means of CBCT imaging is useful in both diagnosis and precise treatment planning when two-dimensional diagnostic films are insufficient. Dental CBCT is useful for multiple types of analyses as well as the assessment of maxillofacial disorders or pathology. It is also most useful in surgical planning, including the accurate placement of dental implants.
Digital X-Ray
Digital X-Ray's utilizes computer technology and digital sensors for the acquisition, viewing, storage, and sharing of radiographic images. It offers several advantages over the older traditional film based methods of taking x-rays. The most significant of theses advantages is that digital x-rays reduces a patient's exposure to radiation. Other benefits are that images can be viewed instantly after being taken, can be seen simultaneously as needed by multiple practitioners, and can be easily shared with other offices. Digital x-rays are also safer for the environment as they do not require any chemicals or paper to develop.
An electronic pad, known as a sensor is used instead of film to acquire a digital image. After the image is taken, it goes directly into the patient's file on the computer. Once it is stored on the computer, it can be easily viewed on a screen, shared, or printed out.
Dental Vibe
Needle fears keep many people away from the dentist. Postponing dental procedures because of these fears is common, but ultimately results in worsening problems and other serious oral health concerns. 95% of the patients that have experienced the DentalVibe Injection Comfort System say that it has changed their view on going to the dentist.
The DentalVibe applies a light vibration to the tissues around the injection site while anesthesia injections are administered. Research has shown that when vibration and injection sensations are occurring simultaneously, the vibration feeling reaches the brain first and essentially blocks the feeling of the injection from being perceived by the brain. Children and adults no longer have to be afraid of the needle.
DentalVibes are used worldwide, including in Europe, Australia, the Middle East, and every state in the U.S. As of April 2015, we have been part of over 4 million injections!
VELScope® Cancer Screening
The VELscope® is an advanced oral assessment technology system that offers clinicians the ability to visualize oral tissue abnormalities that may indicate the presence of oral cancer or pre-malignant dysplasia. A VELscope evaluation is quick, painless, and can be easily incorporated into an oral cancer screening visit.
The VELscope is a handheld scope that utilizes an imaging modality that is sensitive to changes in the natural tissue fluorescence of the oral mucosa. The bright blue light of the VELscope can distinguish healthy soft tissue inside the mouth from soft tissue that has undergone pathological changes.
This ability to identify, evaluate and monitor abnormal soft tissue changes that might not be caught otherwise makes the VELscope an excellent addition to a periodic head and neck exam.
Go Back