Enjoying the benefits of a vibrant smile in tip-top condition is not something to be taken for granted. To maintain optimal oral health requires establishing an effective oral hygiene regimen at home along with making periodic visits to your dentist for a program of preventive care.
The following are helpful recommendations:
Making a Commitment to Routine Checkups and Teeth Cleanings at the Dentist
Maintaining an Effective Oral Hygiene Routine of Tooth Brushing and Flossing at Home
Avoiding Harmful Oral Habits
Eating a Balanced Diet
Limiting Sticky, Sugary Sweets
Fluoride Treatments
Dental Sealants
Dental Checkups
By scheduling a periodic appointment for a checkup and professional dental cleaning, your dentist can help to keep your smile looking good and functioning at its best. At every checkup visit, your medical and dental histories are carefully reviewed and a comprehensive examination of your mouth, jaws, and surrounding areas of the head and neck is performed. While checking for the development of common dental conditions such as tooth decay and gum disease and doing a screening for oral cancer, your dentist will also make note of any signs of problematic health issues that may have originated elsewhere in the body. Experiencing dry mouth, bad breath, gum problems, ulcerations or other oral lesions may be indicative of a serious underlying systemic condition. As part of a comprehensive clinical exam, the dentist will assess the function of your temporomandibular joints (TMJ) and your bite (occlusion) for any impairment or misalignment. The consequences of various dietary choices, eating disorders, harmful habits, certain medications and inadequate oral hygiene practices may also be detected at this time.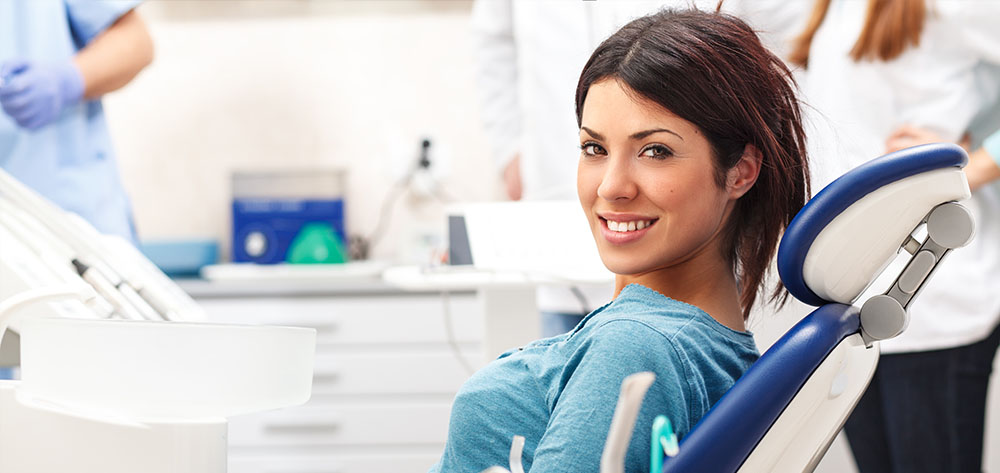 Dental Cleanings and Oral Hygiene
Although these two conditions are largely preventable, dental decay (caries) and periodontal disease, which is more commonly known as gum disease, represent the two biggest threats to your oral health. As part of an effective program of preventive care, thorough periodic cleanings at the dental office along with guidance in the best methods of brushing and flossing at home, play an essential role in warding off the development of cavities as well as the onset and progress of periodontal disease.
A routine dental cleaning as performed by the dentist or dental hygienist involves the thorough removal of any accumulated plaque and tartar from areas that your toothbrush and floss have not reached. Since dental plaque harbors the bacteria that are responsible for cavities and gum disease, its removal prevents these disease processes from occurring. Following a dental cleaning and polishing, which is performed to remove any superficial stains from your teeth, your mouth will feel fresh and clean.
Checkup and cleaning visits also represent an important opportunity to educate patients in the best oral hygiene homecare methods and routines to maintain a healthy smile. Your dental team will carefully explain and demonstrate proper techniques for brushing, flossing and other oral care practices at your initial dental appointment and subsequent recall visits.
Brushing Your Teeth
Maintaining a healthy smile depends upon keeping your teeth and gums clean with a daily routine of brushing and flossing. According to the recommendations of the American Dental Association, it is important to brush your teeth at least twice a day for two minutes each time with a soft bristled toothbrush. Remember to use a soft bristled toothbrush and apply gentle pressure so as not to cause damage to your teeth or gums. Brushing your teeth with a fluoride containing toothpaste that has been awarded American Dental Association seal of acceptance helps to keep your smile healthy and vibrant. Remember to change your toothbrush every three months or when the bristles are frayed.
To brush your teeth:
Place your toothbrush at a 45-degree angle to the gums. While maintaining this angle, move your toothbrush back and forth in short strokes. Make sure to brush along the outsides and insides of the teeth as well as the biting surfaces of the back teeth.
To brush behind the upper and lower front teeth, tilt your toothbrush vertically and brush in up and down strokes.
It is a good idea to brush your tongue at the completion of your routine to help keep your mouth fresh and clean.
How to Floss Your Teeth
To help prevent tooth decay and gum disease, it is also important to remove plaque and food particles from between the teeth and under the gumline on a daily basis. By taking a few minutes to gently floss the teeth once a day, children and adults can reduce their risk of dental disease.
At a routine checkup visit, the dentist or dental hygienist will demonstrate the proper technique for flossing between the teeth. There are a number of varieties of dental floss and all can effectively remove plaque and food from between the teeth. According to a study published in the Journal of Periodontology, the type of dental floss selected is often a matter of personal choice. However, in certain circumstances one kind of dental floss may be preferable over another. In cases where the teeth are crowded, a waxed dental floss may work best. However, if there are spaces between the teeth, dental tape or super floss may be more comfortable and effective. Some people prefer disposable flossers with a plastic handle and a section of attached dental floss, while others use floss threaders or electric flossers to clean between the teeth.
The Proper Technique For Flossing Your Teeth
Whatever type dental floss is selected, proper technique is important to effectively remove plaque and food particles without injuring the delicate tissues around the teeth.
For floss that is taken off a roll or from a dispenser, a good length to use is about 18 inches.
Wind the floss around the index fingers of each hand until a few inches of floss remains between them.
Holding the floss between the index finger and thumb, glide it gently between the teeth and down to the gumline. Hugging the side of one tooth in a "C" shape, slowly move the floss up and down along the base of the tooth to remove any trapped plaque and food particles.
Do the same to the adjacent side of the next tooth and continue around the mouth until all of the teeth as well as the space behind the last tooth are all flossed.
Release clean floss from one hand, while winding the used floss around the index finger of the other hand.
Go Back